About the "Teacher Feature"
The Teacher Feature is designed to acquaint you with "another side" of our Academy teachers in addition to their professional lives. Each month, an interview and a few photo clips of a teacher will appear in the Teacher Feature. We have great people serving here at the Academy, and we want you to get to know and appreciate them. - Mr. Zimmerman
The following article was published on Jan 3, 2010.
Mrs. Sandra Straubel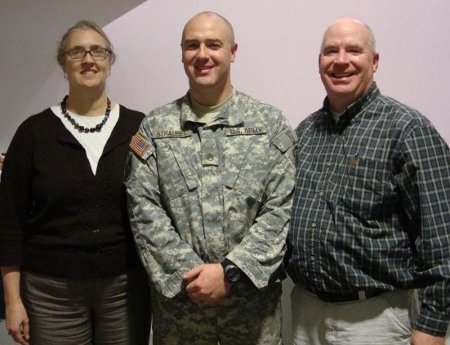 What do you do for fun?
My favorite fun activity is to play tennis. I have been playing since high school and have tried to teach all my children to play. We keep racket in the car, always ready to play a set or two. Over Thanksgiving break, when we travelled to Pennsylvania, we tried to get in a few games in spite of the rain.
I enjoy watching historical movies such as Glory, and The Patriot (skipping the gory parts). There's one about the holocaust, The Boy in the Stripped Pajamas, that is especially dramatic.
I love to watch my children play sports lie basketball and baseball. I participate in music and other activities.
I also enjoy playing with my grandchildren. We read books. They play sports confusion games where they mix the games all up. Conrad plays hoops on the deck. We all love going to the playground and just being outside.

What books or books have you recently read?
Because of a recent trip to Philadelphia, home of the American Constitution, I've been reading some books on our early history and some of the unique events that took place during the early 1700's like the Revolutionary War and the writing of Constitution. I also like to read medical mysteries. John Grisham is a favorite author.
How did you spend the summer?
For almost ten years I spent the majority of my summers working at our church camp, Baptist Park, as the head lifeguard. One of our teachers, Miss Pelletier, has worked alongside of me. In those ten years, only once did I have to jump in and rescue a boy floundering in the deep end. More recently, I have enjoyed spending time with my grandchildren, playing tennis and watching the boys play baseball. I love working in my flower gardens. The garden is mostly planted withperiennials like peonias, Lady Slippers,and other beautiful freebies. I am proud of my Hydrangea that has survived for two years. Last summer, I felt like I spent most of my time picking raspberries in our huge patch. :)
Of what church are you a member and in what ministries do you participate?
I am a member of Littleton Baptist Church where I teach Junior High Sunday School and help organize other children's ministries like Pioneer clubs and VBS. I also work in the sound booth during services. Incidentally, my pastor is also my husband.
Do you have a life verse? Why have you adopted it?
My favorite verses are Isaiah 40:28-31. You may recognize them as our school verses, but I have always loved them because of the picture of the eagle and the power that is there for us through our God. This is also a scripture I've used to encourage my children who are in the military to rest in the concept of God as our strength, yet we must wait in Him.
What have you done recently to better yourself professionally?
A recent trip to historical sites in Philidelphia really sparked my fervor for the subject matter. I received my degree in secondary education / history and continue to keep that current. I participate in school workshops as they are presented . Most recently I was prompted to employ differentiated instructions and I am always searching for new methods to freshen my teaching.
What makes you want to get up in the morning?
I love teaching here and enjoy working with the older students in particular. It's something I chose to do later in life.
What do you like about GHCA?
I love the freedom we have here at GHCA to share about God and the fellowship we can have as brothers and sisters in Christ with our teaching peers.
If you could design your dream school, what would it look like?
Tennis courts and a swimming pool! I would probably also include bathrooms for teachers and a gym. A school with more academic options for student growth would be wonderful. Other than that, I guess we have a dream school.
---