About the "Teacher Feature"
The Teacher Feature is designed to acquaint you with "another side" of our Academy teachers in addition to their professional lives. Each month, an interview and a few photo clips of a teacher will appear in the Teacher Feature. We have great people serving here at the Academy, and we want you to get to know and appreciate them. - Mr. Zimmerman
The following article was published on Oct 19, 2010.
Mr. Jay Lee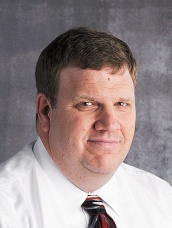 What do you do for fun?
I read and study the Bible, theology and church history. For church history, I enjoy studying Patrology (the study of the early Church Fathers; from the time of the Acts to about 600) and the Reformation period (from about 1400 to 1750). As a family, when a DVD comes out that one of use wants to see we make a "family night" of it and watch it together.
What books or books have you recently read?
Our chapel speaker, Dr. Daniel Shayesteh interested me so I read two of his books: "Islam The House I Left Behind" which is his biography and "The Difference is the Son" which is a comparison of the Christian faith and Islam.
I have re-read "Redemption Accomplished and Applied" which many scholars believe is the best book ever written about our redemption in Christ. This is one of the books that I feel the message is so important that I re-read it yearly plus whenever we go on trips this is the book I take with me to read.
One of our "family night movies" was Inkheart with Brendan Fraser. I read that when Corneila Funke, who wrote "Inkheart," pictured Brendan Fraser and his voice as the hero of the story when she wrote it. So I read the first book and ended up reading the whole trilogy. It is a very interesting story, I read all three (thick) books in a very short amount of time over the summer.
The Inkheart trilogy: "Inkheart, Inkworld, Inkdeath."
"Silence: A Thirteenth-Century French Romance" This book took me almost a month to read. On one page is French and the opposite page is the English translation. I read the book in French then checked how well I did with the English. College French did come back, at last.
How did you spend the summer?
The "big deal" this summer was taking our middle daughter, Victoria, to Virginia to attend Liberty University. Then we visited a college that Jessica is thinking of going to on the way home.
Of what church are you a member and in what ministries do you participate?
I am a member of Military Street Baptist Church. I lead an adult small group, currently we are studying Dr. J. I Packer's book "Knowing God." Sometimes I preach (more like teach) when Pastor Burns is away.
Do you have a life verse? Why have you adopted it?
Galatians 2:20 (NKJV)- I have been crucified with Christ; it is no longer I who live, but Christ lives in me; and the life which I now live in the flesh I live by faith in the Son of God, who loved me and gave Himself for me.
I adopted it because it sums up how Christians should live. C. T. Studd said it in this way: "If Jesus Christ be God and died for me, then no sacrifice can be too great for me to make for Him."
What have you done recently to better yourself professionally?
I have read, "They're Not Dumb, They're Different: Stalking the Second Tier (Occasional Paper on Neglected Problems in Science Education)" This book is about the three different learning styles: Visual learners, Auditory learners (which is my major learning style), and Kinesthetic learners. It is written on how to teach a chemistry class to all three styles of learning. However the principles apply to all subjects.
A little over a year ago, I attended a four day workshop on teaching reading across the curriculum.
What makes you want to get up in the morning?
I am blessed that I don't view "teaching" as work. To me, it is a fun, non-stress way to spend the day.
What do you like about GHCA?
I like the new water fountain outside my classroom. I am thrilled that the majority of the students "want" to learn
If you could design your dream school, what would it look like?
Students who are engaged in their learning all the time they are in class. There would be this time/space thing where teachers would have all the time in the world to teach what they want to in a 45 minute class and it would not affect a 24 hour day.
---