About the "Teacher Feature"
The Teacher Feature is designed to acquaint you with "another side" of our Academy teachers in addition to their professional lives. Each month, an interview and a few photo clips of a teacher will appear in the Teacher Feature. We have great people serving here at the Academy, and we want you to get to know and appreciate them. - Mr. Zimmerman
The following article was published on Nov 30, 2008.
Mrs. Cathie Hemingway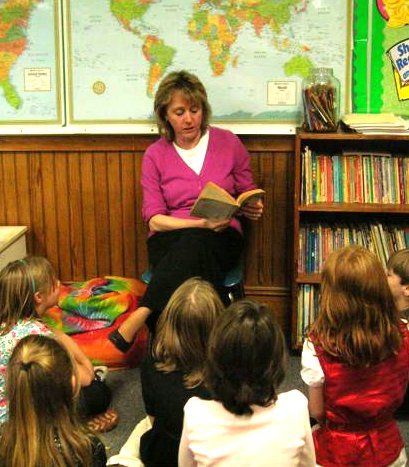 What do you do for fun?
I like to spend time making memories with my family and extended family. We go for walks along the road and in the woods. Yogi Bear, Portland, and New Hampshire are some of our favorite family destinations. We also enjoy four wheeling and picnicking together as well as gathering for seasonal festivities. I like to read, do puzzles of all kinds and cook my family's favorite meals such as chicken pot pie and cherry cheese cake. I buy old TV series DVD's such as Leave It to Beaver , Lucy, and Little House on the Prairie for the family to watch.
What books or books have you recently read?
I read all the time. I like to read books on parenting, history, historical fiction, biographies and autobiographies, books about missionaries, and country magazines. Reading and rereading adult and children's classic is enjoyable. Some of the books I am reading or have read in the past year include the following: The Blessing of a Skinned Knee, What Children Need Most in a Mom, Devotionals for Busy Women, The Garden at the Edge of Beyond, Lights across the Delaware, Where the Lilies Bloom, The Enduring Hills and Biographies of Barbara Bush and Billy Graham.
How did you spend the summer?
With my family, I four wheeled to Duff's farm, picnicked and spent time at the pool in Canada. Yogi Bear and Living Waters campgrounds were also on the itinerary. Home improvements such as painting the bedrooms was also on the agenda. Bottom line , I would rather be home with my family than traveling.
Of what church are you a member and in what ministries do you participate?
I am a member of Hodgdon United Baptist Church. I have participated in many ministries including teaching Sunday school, junior church and Awana. Since it involves food preparation, serving on the fellowship committee is something I have particularly enjoyed in the past. Currently, I work in the nursery , help clean the church and with the help of my family, take a turn as a greeter at times.
Do you have a life verse? Why have you adopted it?
One of my favorite verses is Psalm 19:14 because Christ is my redeemer and has been my strength throughout my life. It is my desire that what I say, think and do will please Him.
What have you done recently to better yourself professionally?
I have taken computer education classes and have taken a history education class through UMPI for recertification, maintaining my state certification since 1988. While taking an ancient history course , I learned about the places in the Bible and have reevaluated what I believe and why I believe what I do. Attending a spiritual revival at my church this fall helped me to remember to let God be in control ; He does a better job than I do.
What makes you want to get up in the morning?
I like to get up every morning; I'm up at 5:00am. One time we heard an awful noise coming from the heat duct. Upon investigation, we discovered our cat had explored the inner recesses of our heating system only to realize that getting in was a lot easier than getting out. After attempting to lure the poor feline out, we fast came to the conclusion the duct work would need to be dismantled. Jimmy, my husband, made one last reach with his long arms, and thankfully dragged the adventurer out by its tail. Anyway, each day is a gift to spend with those you love.
What do you like about GHCA?
Being able to incorporate the Bible and its principles in every aspect of a student's day. I truly enjoy my students every year. It is exciting to be able to see them grow both spiritually and academically.
If you could design your dream school, what would it look like?
Larger, up to date classrooms and other facilities with a modern heating system and state of the art play area.
---