Mrs. Ann Sherman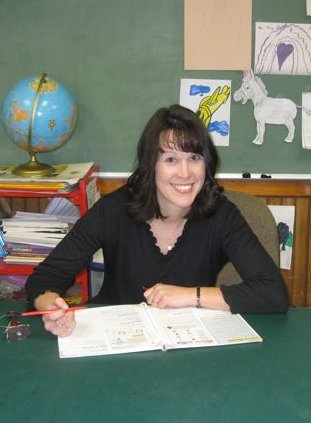 What do you do for fun?
In my "spare" time, I enjoy walking, scrapbooking, and listening to music. God has given many blessings. I am very thankful for each of them.
What books or books have you recently read?
Lately I have been reading for guidance instead of enjoyment. I've been reading The Hair Raising Joys of Raising Boys by Dave Meurer, Aaron's Way - Journal of a Strong Willed Child by Kendra Smiley, and Making Your Child Mind Without Losing Yours by Kevin Leman. These books have been inspiring, as well as, helpful. (As you can see by the list, we are seeking strength and encouragement in raising our three year old son.)
How did you spend the summer?
My family enjoys camping. We took our family's camper to Bar Harbor and New Hampshire this summer. At BarHarbor, we joined my mother-in-law and other family members. We enjoyed sight seeing and a nature tour. While in New Hampshire, we visited Santa'a Village, Storyland, and toured the Mount Washington area. We also spent time biking, swimming, walking, and being together as a family. We also spent time at our family camps on Drew's Lake and Spaulding Lake.
Of what church are you a member and in what ministries do you participate?
I am a member of the Linneus Freewill Baptist Church. My church has played a very important role in my life. I have led the adult and children's choirs. I also enjoy teaching junior church and organizing the Christmas program. Having grown up in this church, I consider it a privilege to give back to the people who gave so much to me. I am also thankful for the values they have instilled in me.
Do you have a life verse? Why have you adopted it?
Philippians 4:13 has been an encouragement to me. At times when I feel things are impossible, I realize anything is possible with Christ. Another verse that inspires me is Isaiah 40:31. This verse encourages me to keep moving forward.
What have you done recently to better yourself professionally?
I received my BS in Education with a minor in English through the University of Maine at Presque Isle
What makes you want to get up in the morning?
My family is what encourages me to get up in the morning. I get up around 5:30 am to prepare lunches and start the day. When I can, I truly enjoy a quiet devotional time before the day begins.
What do you like about GHCA?
I like the Christ-centered atmosphere. The simple ability to start the day off with Bible is a blessing. I appreciate the encouragement that I receive from my school family.
If you could design your dream school, what would it look like?
An efficient heating system would be a good place to start. The building would contain a school library, spacious classrooms, a large multi-purpose area, and a teacher's room with space for supplies and equipment.